QUICK AND EASY PUBLIC CHARGING FOR ELECTRIC CARS.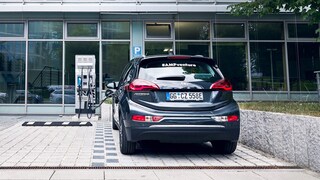 In Europe, the average person drives around 60 kilometres per day1 – a distance easily charged overnight via a regular power outlet. But what if you want to go on a road trip with friends or meet a client in another city? What if you know you'll be staying at your friend's house where you can't plug in your car? 
In situations like these, you need a reliable power source for your electric car. We'll tell you how to find a charging station, how to pay and what types of public chargers are available.
Find a Nearby Charging Station.
Nowadays, there's an app for everything – and finding the nearest charging station is no exception. Go to your app store and search for "Charging Station App" – you'll find there are hundreds of free apps.  For the Opel Ampera-e, the myOpel app2 is particularly handy because alongside helping you find the nearest charging station3, it turns your smartphone into a remote control for your car. It lets you locate your vehicle, lock and unlock the doors from anywhere in the world and even activate heating or air conditioning.
Typically you can search by:
Location: Charge points closest to you or a specified address
Power levels: 3.7kW to >50kW
Connector type 
Learn more about Opel OnStar
Join a Charging Network or Charge for Free.

There are some free charging stations – but most aren't the fastest. So the first thing you should do is register to a network to pay – choose from pay-as-you-go or a monthly subscription. What's the right network for you? First, think about your regular routes and favorite destinations. A station-finding tool can help you see the charging networks along the way – be prepared to use any of them.
Next is cost: Depending on the location and service you're using, you can either pay by the amount of time your electric car is plugged in, or for the power used.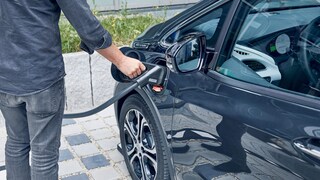 Types of Charging Stations.

Depending on how much time you have, you can chose between two different types: 
Alternating Current (AC) charger: This type of charge is generally slower, but is cheaper – and can sometimes be free. Good to know: You'll need to bring your own AC-charging cord.
Direct Current (DC) charger: Enables super fast charging. The equipment needed to charge this way will be found at the charge station itself.
Plug Your Electric Car in Wherever You Are.


There is already an extensive network of charging stations across Europe – and this number is only going to get bigger as most governments are investing heavily in an electric future. It's this continuous investment that's making electric cars the right choice – not only for your daily commute, but for longer trips as well.
1The daily average distance travelled in Germany is 60 km. (Source: Driving and parking patterns of European car drivers – a mobility survey (2012), page 63 https://setis.ec.europa.eu/sites/default/files/reports/Driving_and_parking_patterns_of_European_car_drivers-a_mobility_survey.pdf).
2The OnStar Services require activation and are subject to mobile network coverage and GPS availability. Charges apply after the free trial period. The OnStar subscription packages could be different from the services included in the free trial package. Some features may not be available for certain carlines or trim levels. Terms and conditions apply.
3Please note that at specific charging stations a membership or subscription with the 3rd party service provider may be required before being able to charge the vehicle.