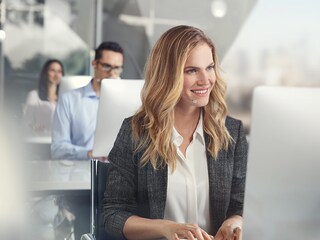 When will OnStar services end?
Please note that all OnStar and Wi-Fi services enabled by the OnStar connection (if available in your country) will end by Dec. 31, 2020.
This includes the Wifi services of the OnStar telecommunications partner as well as the automatic crash response.
For all vehicles with OnStar the free 12-month service trial (excluding WiFi) can be activated until November 30, 2019. This will no longer be possible at a later date.
Last chance to activate 3-months/ 3 GB (whichever comes first) Wifi service trial is March 31, 2020.
How do I get started and use OnStar?

Just press the service button to speak to an OnStar Advisor to request an invitation email to set up your OnStar account. If you have any questions, press the blue service button to speak to an OnStar Advisor.
How do I access my OnStar account?
Once your account is set up, you will be able to access your OnStar account via the Internet as well as the OnStar app.
How can I unsubscribe?
You can stop receiving OnStar services at any time, although we hope you don't want to. You can go online to your OnStar account and unsubscribe there, or you can press the OnStar service button in the car and talk to an advisor who can help you.

Will OnStar work when I travel abroad?
Yes, OnStar services are available across Europe. Wi-Fi data, which is offered by the nominated mobile network operator, is available in certain countries only.

Which languages will be OnStar available in?
OnStar is available in the following languages: English, French, German, Spanish, Italian, Dutch, Polish, Portuguese, Bulgarian, Czech, Danish, Finnish, Greek, Hungarian, Norwegian, Romanian, Russian, Slovakian, Slovenian, and Swedish. To answer your call as quickly as possible, in exceptional circumstances you may be connected first to an English-speaking advisor.
How do I select my language?
Your OnStar account will be set to the language you choose at enrolment. At any time you can change the language in your account.

At any time you can change the language in your infotainment system, which will change the language in which OnStar Advisor communicates to you in (see the languages in the question above). If any other language is selected, you will be connected to an English speaking advisor.
When driving in another country, will OnStar charge me with extra costs when calling an OnStar advisor?
When you are in your car, you will not be charged when you contact an advisor through the OnStar system.
How do I buy services & data?
Here are two ways to subscribe to OnStar services (excluding Wi-Fi data).
Option 1: Log in to the OnStar portal and go to 'OnStar Packages' to buy your subscription. Simple. 
Option 2: Let an advisor help you. Press the blue Service button in your car and they'll talk you through the steps.
What (personal) data is shared with OnStar and for what purposes?
OnStar does not collect your data unless you subscribe to the OnStar services. If you subscribe to the OnStar services, OnStar collects data that you share with them in order to provide your OnStar services to you. To view the OnStar Privacy Policy, log in to the OnStar portal and go to "My Profile".
Can I prevent OnStar from using my data?

You can request deletion of your data. See OnStar Privacy Policy for details.
What about OnStar tracking me and knowing where I am?
OnStar does not track you. You are in control of when OnStar uses your location, the privacy button allows you to mask your location at any time. If you change your mind, you can press the privacy button again to reveal your location for OnStar services. Only in the case of an emergency will this be overruled to protect your life.

What data is collected?
OnStar collects data that you share with them in accordance with its Privacy Statement to provide you with your subscribed OnStar services.
Customer information - such as name, address, e-mail, security information such as PIN, emergency contacts (in case you want a loved one to be contacted if you have an emergency)
Vehicle data - such as odometer, mileage, tyre pressure, oil life, fuel levels, diagnostics.
Vehicle location - to provide destination download, stolen vehicle assistance and emergency services.
See OnStar Privacy Statement for details.
Can I decide which data is collected?
Yes you can. OnStar will ask you to provide some basic customer information when you register. You may wish to share additional data beyond that e.g. emergency contact information directly at registration or later on.
How do I know what data is collected by OnStar?
When you register for OnStar we will provide detailed information about what data will be collected and what it is used for.

How will this data be used?
The data OnStar collects will only be used to deliver subscribed services to you. We will never forward your data to 3rd parties without your consent.

Is the data transferred to other countries?
All OnStar service data is stored and remains on servers in Europe. Some general customer data may be transferred through servers in the U.S. for billing and payment processing purposes only. To view the OnStar Privacy Policy, log in to the OnStar portal and go to "My Profile".
What if I press the red SOS button unintentionally?
Sometimes these things happen, it is no problem. When you are connected to an advisor we will just check if there is anything else we can help with.
What happens if I have an accident in a place where there is poor reception or no mobile phone coverage is available?

The larger roof antenna that comes with OnStar, provides a stronger signal compared to your mobile phone, even if you are in an area of poor reception. However, where no coverage is available, OnStar services may not be available.

 Can I use my own Roadside provider via OnStar?
OnStar can provide customers with Opel/Vauxhall Roadside with vehicle details & in certain circumstances your location. OnStar is currently unable to provide this same service with other roadside service providers.
How does the Roadside assistance support work?
If your car is within the Opel Roadside Assistance coverage period and policy terms, they will dispatch a professional breakdown recovery team to your location. If you are outside the Opel Roadside coverage, a charge may be payable to the roadside assistance provider.

What kinds of emergencies can OnStar help me with?
OnStar can help you with every imaginable emergency in the vehicle. Whether you have an accident, a medical emergency or you see an accident on the road and you want to alert the emergency services, just press the red SOS button and we can help.

Is OnStar only available in emergencies?

No, OnStar can provide many additional features than help outside of an emergency situation. You can contact OnStar via the blue service button in the car or the myOpel/MyVauxhall App. If you need the address of that new restaurant, want to check what the warning light on your car means, or if you forgot to lock your car, we are there to help you 24/7, 365 days a year.

Will OnStar always work?

OnStar services rely on wireless communication networks and satellite positioning systems. The larger roof antenna which comes with OnStar, provides a stronger signal compared to a mobile phone, which helps OnStar to stay better-connected to you and your vehicle – even if you are in an area of poor reception. In exceptional cases, there may be remote areas where OnStar services may not have a signal which will prevent them from working.
Please note that all OnStar services and Wi-Fi services enabled by the OnStar connection (if available in your country) will end by Dec. 31, 2020.
STOLEN VEHICLE ASSISTANCE
Who is permitted to activate the ignition block?
Once the vehicle has been reported as stolen, the OnStar advisor can activate the ignition block.

How can I connect a Wi-Fi device with the Wi-Fi hotspot?
It is really easy & you can connect just like you would connect to any Wi-Fi network.

First, press the privacy button, then select Wi-Fi settings on the infotainment screen & you will find the Wi-Fi hotspot name & password.
Start a Wi-Fi network search on your mobile device and select your vehicle hotspot when listed. Enter the password when prompted. You can access your Wi-Fi settings in the car or via the app.
I already have a data subscription on my mobile. Why should I pay for another one?
OnStar Wi-Fi connectivity will provide you with a stronger signal than your mobile due to the large roof antenna on the car, You will not only have a superior experience, you can also tether up to 7 mobile devices in the car, so your passengers will be able to use the Hotspot too.

What about data roaming (EU)?
There are no additional costs for data roaming. 

I have OnStar in my car, but I have not activated it, how do I get Wi-Fi?

When Wi-Fi is available in your country, you must activate you OnStar services and you can choose to activate your Wi-Fi trial at the same time.
I don't have OnStar activated, but I want Wi-Fi, can I just have Wi-Fi?
You will need to activate OnStar in order to benefit from Wi-Fi. You can choose which OnStar services you wish to use.
How can I download and install the myOpel/Vauxhall app?

The app is available to download from the Google Play Store (Android) and the Apple AppStore (iOS).
What is the pre-requisite to use the service?
The user must be 18 years old must have a credit card.
Can the advisor book any hotel?
The advisor can book every hotel that is included in the booking.com database. Other accommodations cannot be booked, but the advisor can download a destination on request.
Can the advisor use the credit card information stored in my OnStar account?
No, the credit card information needs to be submitted before the accommodation can be booked.
Can the advisor also cancel my reservation?
Yes, the advisor can cancel the reservation. The advisor will then inform you of any cancellation fees.
How do I get a confirmation for my booking or cancellation?
The advisor will send you a confirmation e-mail from booking.com. If cancelling you will also receive one from OnStar. On request the advisor can send the address of your hotel to your embedded sat-nav.
What parking locations does the service offer?
The service offers garage parking and street parking, if available. In general, the service can provide information about parking spaces available in the Parkopedia database.
Can the advisor also book a parking spot for me?
No, the advisor can only look for parking spaces and provide information about prices, opening hours or if free spaces are available. On request the advisor can send the address to your embedded sat-nav.
What is the difference between the new parking service and the one that already exists via the POI search?
Your advisor will use the new parking service Parkopedia. This database provides additional information such as prices, opening hours, special features or free space if available.
I can see a warning light in my vehicle. Can OnStar help me understand what it means and advise appropriate actions?
Yes. You may press the Service Button at any time and an OnStar Advisor can run a thorough diagnostic check of your vehicle's key systems, even while driving.

My Opel/Vauxhall vehicle is not equipped with an original navigation system, can I still use OnStar Destination Download?
No. The Destination Download feature requires a factory-installed navigation system, and the relevant map data.

How does it work?
Press the service button to request your POI or address. The advisor sends the address to your factory installed Navi system. After the advisor ends the call, the address is visible on the Navi system. Select the address and the navigation system will provide the route.

Have you not found an answer to your questions in the FAQ? Do you need assistance, or are looking for further information? Do not hesitate to contact us. Our service team is ready to assist you.